NVL Group is an independent, privately owned group of renowned Northern German shipyards and related companies. Our new build and repair shipyards are strategically located at the North Sea, the Baltic Sea and the Port of Hamburg. As a group of shipyards, we always find the ideal location for your project. When it comes to complex projects, we work together to leverage our full strength and flexibility. Construction at our network of shipyards is supplemented by licensed manufacturing at customer facilities around the world under technology transfer arrangements.
Our headquarters are located in Bremen-Vegesack, the centre of our development and design capability as well as our shipbuilding competence. This is where our managing directors are based, as well as sales, project management and several administrative functions. Bremen-Vegesack is also the home of our NVL Services team.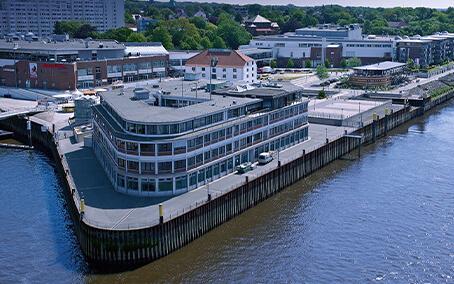 FOUR SHIPYARDS – ONE GOAL
With four strategically well-placed shipyards, NVL Group has the state-of-the-art facilities required to produce high-quality vessels that deliver superior levels of performance. A total of 13 docks, ranging from 118 to 351 metres, modern shipbuilding halls and workshops, and a dedicated workforce of specialists are all on hand to build and support naval vessels and coastguard vessels between 20 and 200 metres in length. Their performance is then sustained throughout their life cycles with the expertise of NVL Services.
We thrive on complex projects just as much as simple tasks and take pride in finding a solution for every budget and requirement to ensure the operational readiness of your fleet. In line with their individual histories, locations and facilities, our shipyards are specialised in their respective fields within the defence industry. Our new-build activities are centred at our renowned shipyards Peene-Werft in Wolgast and Blohm+Voss in Hamburg. Norderwerft in Hamburg and Neue Jadewerft in Wilhelmshaven are dedicated to repairs, refits and modernisations of naval vessels and auxiliary ships. With Hamburg being an important port for commercial vessels worldwide, Norderwerft takes care of all types of commercial projects.   
All four shipyards of NVL Group are aligned with one another to leverage synergy effects. This not only encompasses cross-shipyard procurement processes, it also means specialists are available at all times to support individual shipyard projects. The result: a high level of expertise and cost-saving shipyard operations for producing high-quality ships. To learn more about our shipyards and docks, please click on the pictures below.
OUR INTERNATIONAL OPERATIONS
With our international operations, we support customers around the world in their own countries. We offer cooperation with local shipyards, guide activities from a local office, work with local suppliers and use local steel. We help them in building their infrastructures and transfer know-how and technology when needed – all to build a successful future.