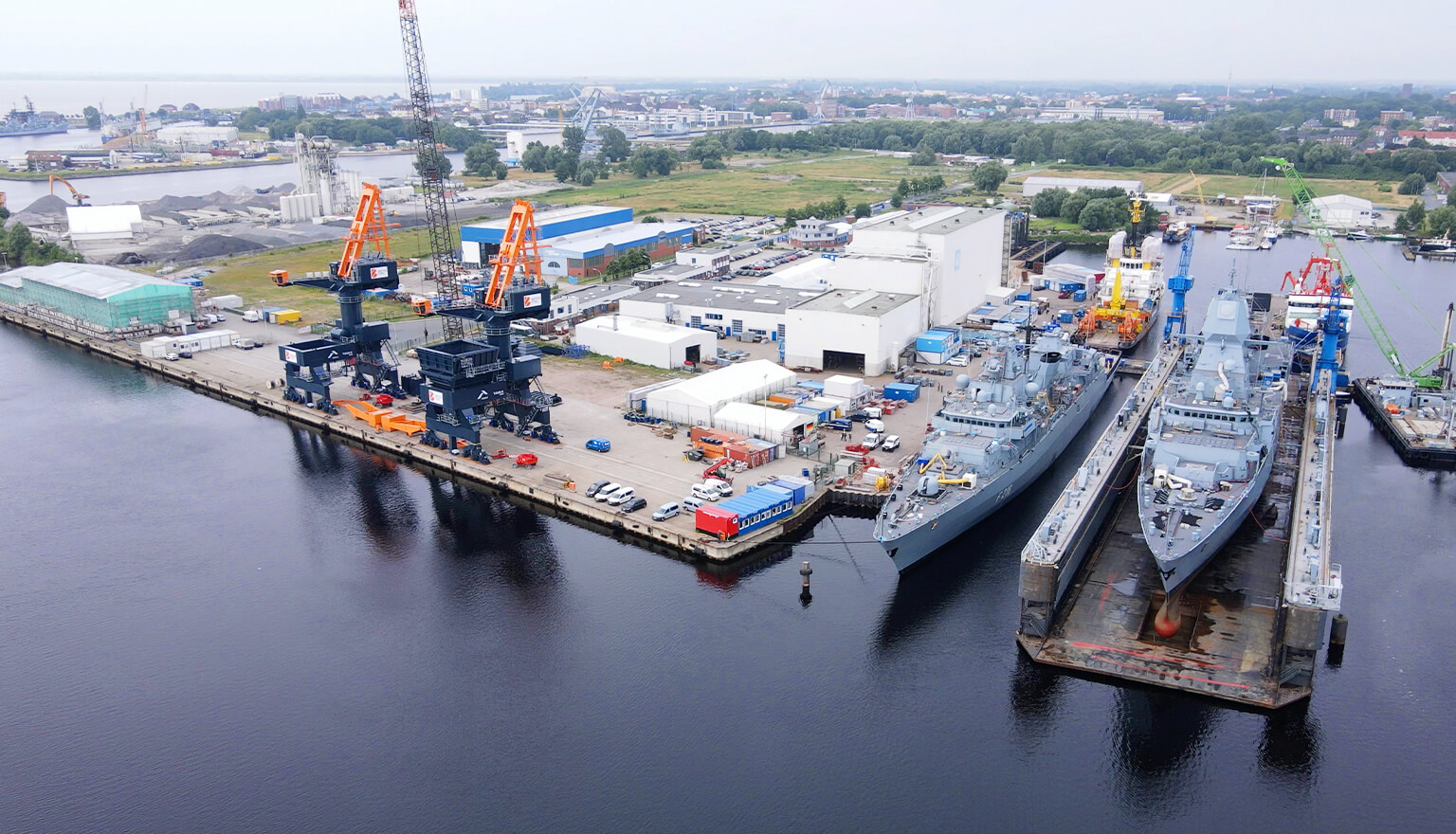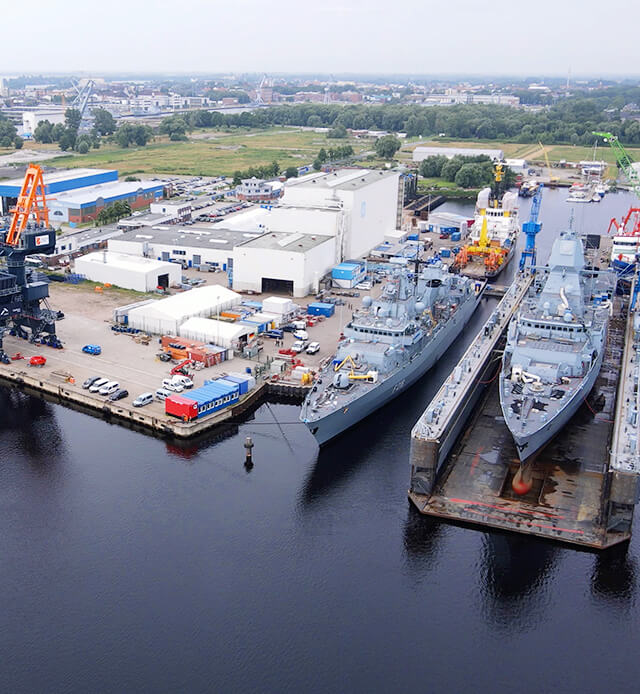 NEUE JADEWERFT
WILHELMSHAVEN
REPAIR SPECIALIST FOR LARGE NAVAL VESSELS AND CIVIL SHIPS 
Founded in 1947, Neue Jadewerft serves NVL Group as a state-of-the-art repair shipyard, specifically designed to handle the full range of repair, refit, overhaul and maintenance of large naval vessels up to 160 metres in length. The shipyard also offers these services for civil ships, such as tankers, excavators, container ships, tugboats and more.
Neue Jadewerft is located in the deep-water and tide-free port of Wilhelmshaven. Thanks to this location, the routes from the main trade lanes in the North Sea to the shipyard are some of the shortest in Germany. It is also located right between the naval arsenal of the German Navy and their naval harbour. The shipyard is accessible via the world's second-largest lock, featuring two lock chambers which are each 390 metres in length, 59 metres wide and 14 metres deep.
WE SUPPORT YOU – WORLDWIDE
High quality at fair prices, flexibility and 24/7 service with an especially close focus on our customers – this is what we stand for. We offer our customers decades of experience and know-how with our qualified team as well as our well-equipped shipyard with a full range of in-house workshops. No matter if your project is around the corner or anywhere around the globe, Neue Jadewerft cooperates with NVL Services to support you worldwide. Next to conducting complex projects at our shipyard, we have successfully staffed and completed projects everywhere in the world – some of them with up to 30 people over a period of 16 months.
We strive to provide the best value for our customers and each individual project. To ensure our high quality standards and reliable service, we work closely together with our sister shipyards Norderwerft, Peene-Werft and Blohm+Voss as well as leverage the extensive supplier network of NVL Group. Our team at Neue Jadewerft is always happy to welcome existing and new clients – for long-term projects or unplanned repair or maintenance work at short notice. Please feel free to contact us.
Classified by DNV and regularly monitored, our floating Dock 1 features a length of 150 metres and a width of 24 metres. It is continually modernised to be ready for the ships of today and tomorrow. The dock is equipped with a sonar pit, hydraulic bilge blocks and hydraulic lateral walls, which enhance the safety of your ship. It can be digitally monitored through our YardManagerApp, which enables us to work more efficiently. We also feature a state-of-the-art underwater drone that supports us in safely and securely docking your ships. While Dock 1 is mainly used for large naval vessels, our new Dock 3 provides additional space for civil ships.
Neue Jadewerft has a total of four berths within the shipyard's port with a length of 440 metres and a depth of at least 8.5 metres. An additional berth of 300 metres in length with a depth of at least 11 metres is directly situated at our shipyard. The on-site power supply for our docks and berths is 440 V/60 Hz with a maximum of 1.5 MW (different voltages are available).   
The heated shipbuilding hall, which is designed in line with the state-of-the-art slipway, enables repairs on naval vessels and auxiliary ships with a length of up to 80 metres and a weight of up to 2,000 tonnes – in any kind of weather, fast and effectively. Overall, Neue Jadewerft has an average of about 70 dockings per year. The production hall, which was extensively modernised in 2013 to handle aluminium and stainless-steel components, is also heated to ensure the best-possible results of assembly and work.
The modern infrastructure of Neue Jadewerft has been developed for maximum efficiency between the workshops (a mechanical and engineering workshop, a locksmith workshop, a carpenter workshop and an electronic workshop), two warehouse and storage facilities, and the shipbuilding hall. The shipyard also has access to one of the most modern blasting and painting halls, located on the premises.
Important to note is that we have refurbished our workshop to be accessible to workers with special needs. This includes four times more lighting, new and special work benches, and computers with special reading cameras.
For an overview of our certificates, please click on the download button.

NEUE JADEWERFT CERTIFICATES
NO PROJECT IS TOO BIG OR TOO SMALL FOR US 
From engine replacements to propulsion and shaft work to the handling of comprehensive projects over many years – our specialists develop effective and reliable solutions for the most complex challenges, often under the professional integration of local workers. We also offer maintenance work on crude oil tankers, work on LNG carriers and mobilisation and overhaul work on offshore vessels. From minesweepers, corvettes and patrol boats to logistic support ships and service vessels (harbour tugs, high seas tugs and small service vessels) – we take care of your vessels.
One of our specialities is the maintenance of frigates. There is hardly any frigate class we haven't docked or taken care of. This includes the maintenance of frigates of the F122 class, known as the Bremen Class. We have also been awarded and successfully completed overhaul and maintenance work on frigates of the F123 (Brandenburg Class) and F124 (Saxony Class) classes.
With more than 70 successfully completed maintenance projects for military surface vessels, we play a key role in the area of depot maintenance for the German Navy and have been serving them as a reliable partner for decades. We believe that our qualified team, modern shipyard facilities and continuous high level of efficiency are what led us to receive the contract to maintain the latest generation of vessels for the German Navy, the corvettes K130 (boats 1-5), known as the Braunschweig Class.
FAMILY SPIRIT AND STRONG SOLUTIONS
Quality, know-how, efficiency and a family spirit are characteristics strongly anchored in the structures of our shipyard. With our long-standing history of over 75 years, they have become part of our DNA. Our highly qualified staff is the driving force and source of innovation at our shipyard. We ensure that knowledge is passed on and pay attention to our succession planning. Most of our over 130 employees have been with Neue Jadewerft for over 20 years and have a deep connection to the shipyard and its customers. Many even started as apprentices with us. They have gained hands-on experience, developed leadership skills and taken on responsibility from a young age.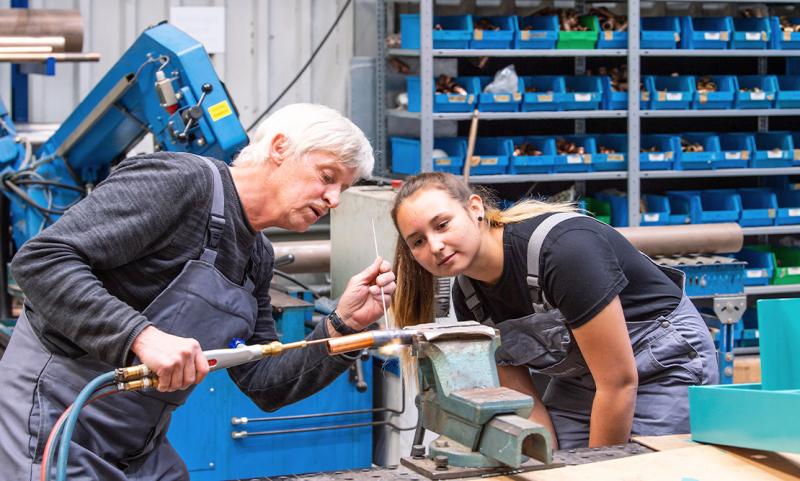 At Neue Jadewerft, we are proud to act as one tight-knit family, where we can count on everyone at any time – from apprentice to managing director. To ensure best results, teams are flexibly put together based on the individual demands of each project. Thanks to our teams' motivation, readiness to serve, shipbuilding competence and passion, we are able to develop and efficiently realise tailored solutions for virtually every project at any time.
COME ABOARD!
Become part of our team: we are always looking for professional reinforcement for our team for the new build and repair of naval vessels and coastguard vessels, NVL Services, business administration, and engineering. We also have a variety of apprenticeships and dual studies programmes available. 
WHAT MAKES US STAND OUT
At Neue Jadewerft, flexibility meets a passion for ship repairs and maintenance. 
State-of-the-art facilities, uniquely located at the deep-water port of Wilhelmshaven, independent of tides 
Specialised in the repair, refit, overhaul and maintenance of large naval vessels and auxiliary ships of up to 150 m 
Strong customer focus from our tight-knit team to provide quality and efficiency, everywhere in the world, 24/7 
Close cooperation with our sister shipyards within NVL Group to ensure the best results for your individual project 
NEUE JADEWERFT IS NOW A CERTIFIED COOPERATION PARTNER OF AUMA RIESTER
Since February 2023, Neue Jadewerft has been a certified cooperation partner of the South German manufacturer of valve actuators and gearboxes, AUMA Riester. Neue Jadewerft is now authorised to carry out inspection work and high quality repairs of AUMA Riester actuators and associated valves for the German Navy as well as for civilian shipping customers - in compliance with the high quality standards of the manufacturer. AUMA Riester already trained and qualified the first employees of Neue Jadewerft in January. Through further training and the regular exchange of our teams in person, we continuously ensure the high quality standards.

By cooperating with AUMA, we can offer our customers, as well as the customers of our northern German sister shipyards within NVL Group, a local, fully comprehensive service from a single source, greater flexibility and shorter waiting times. We are looking forward to shaping the future of the Marine product area together. As experts in the repair of naval vessels, we are looking for a long-term partnership and plan to expand our cooperation.

For more information, please read our press release.
DISCOVER MORE NVL Group SHIPYARDS AND PARTNERS
Learn more about our network of shipyards and international operations.