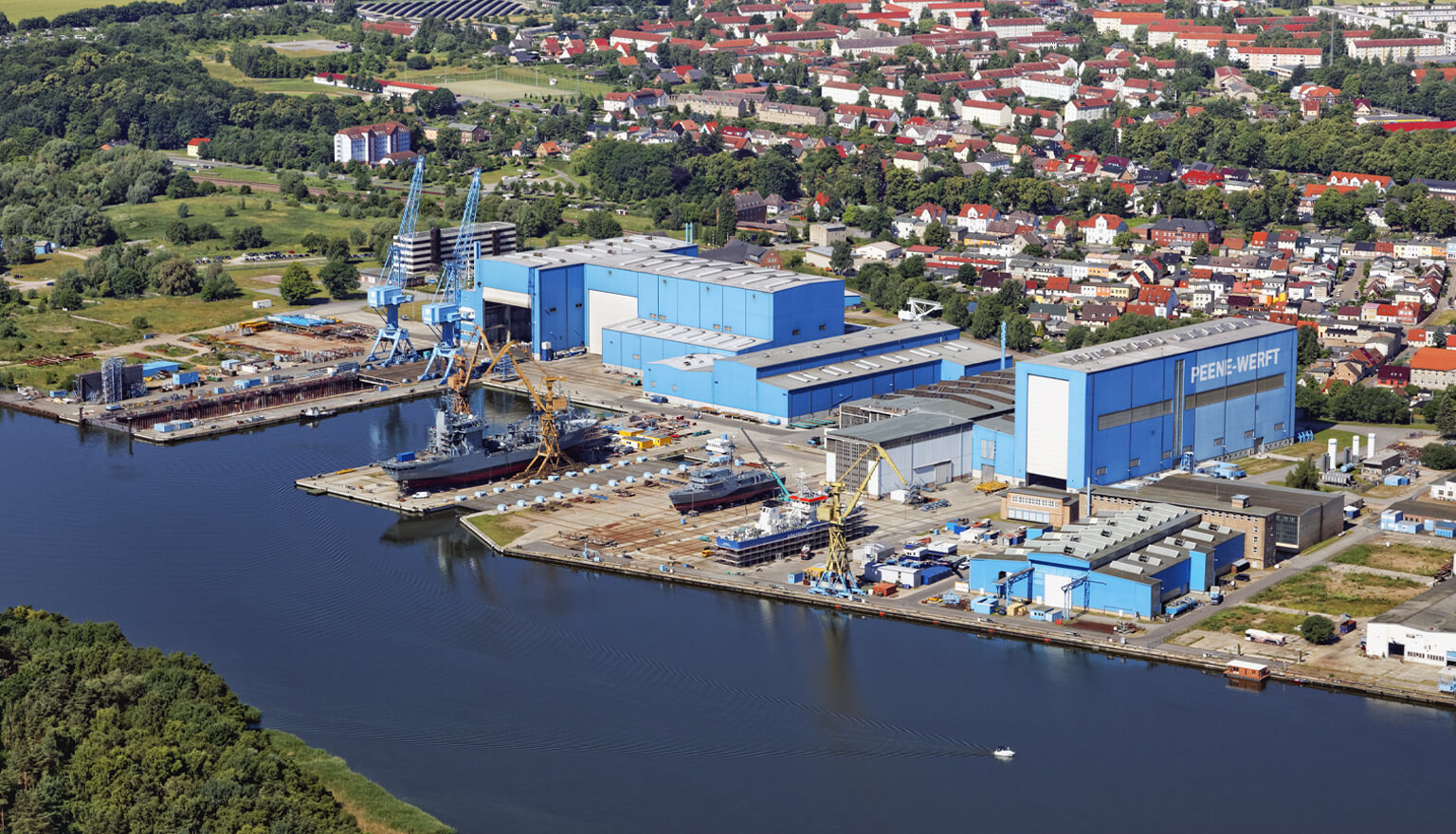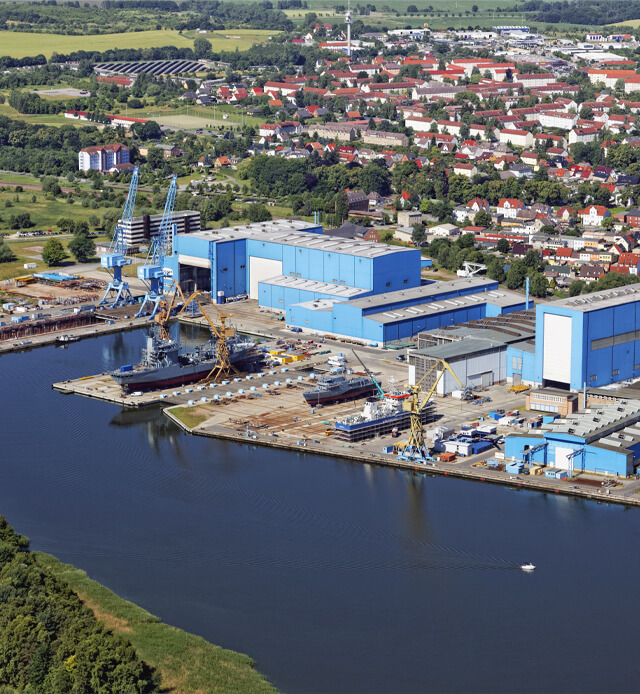 YOUR SHIPYARD AT THE BALTIC SEA
As a state-of-the-art shipyard of NVL Group, Peene-Werft is specialised in the new build and repairs of naval vessels and coastguard vessels. The shipbuilding experts of Peene-Werft think and work on a global scale to cater to the full range of naval vessels for customers – from Wolgast to around the world.
Located in a small town in the north-east of Germany, the shipyard benefits from its close access to the Baltic Sea and proximity to the beautiful island of Usedom. Shipbuilding know-how in this region goes back many decades, and the shipyard and its team are proud of their long-standing and strong roots in the area.
Our team of excellent shipbuilders stands out with their pragmatic, solution-oriented and down-to-earth mentality. The family spirit at Peene-Werft serves as the foundation for the care that you and your project deserve.
AN IMPORTANT LINK IN THE NEW BUILD AND SHIP REPAIR NETWORK
Peene-Werft excels through its experience with the full range of naval vessels and coastguard vessels of all shapes and sizes. Since its beginnings in 1948, Peene-Werft has successfully manufactured tailored solutions for customers' specific needs and requirements. The shipyard also developed a perfectly organised serial production for projects with larger quantities.
At the same time, the expertise of Peene-Werft goes beyond new builds to include high-quality repairs, maintenance and refits. This area functions as a 'shipyard within the shipyard' – with its own production halls, repair specialist teams, processes and mentality –identifying conditions and finding cost-effective, efficient solutions for its customers. Due to the shipyard's competencies, experience and spacious facilities, Peene-Werft is proud to include the German Navy as a major customer. We support them in various repair projects on tenders, mine countermeasure vessels, corvettes and more.
As part of the NVL Group network, we work closely together with our sister shipyards: Blohm+Voss, Norderwerft and Neue Jadewerft. We not only leverage an extensive supplier network for synergies, we also share our knowledge, technology, staff and experience to support our customers. Together, as a team, we aim to find the right solution for you. To discuss specific requirements for your project, please don't hesitate to contact us.
Our wide-ranging facilities include a 950-metre-long outfitting quay and multiple shipbuilding and prefabrication halls. This gives us the flexibility to have two independent production lines of new builds at the same time. Our large production hall is connected to our dock which allows us to build ships up to 30 metres in width. For ships up to 15 metres in width, we have Shipbuilding Hall 4, where vessels can be launched via ship lift.

Our hall facilities are supplemented by a pipe prefabrication and an outfitting workshop, two warehouse and storage facilities, a repair and refit centre, a mechanical and special-repair workshop, and a training and education centre. Our Marine centre is distinguished by its height. It can fit a completely equipped corvette for repairs and maintenance work without dismantling any part. Our lift can hoist loads of up to 3,000 tonnes, and our dry dock fits vessels of up to 175 metres in length.

Thanks to our wide-ranging and well-equipped shipyard, we are able to take on various projects – from series production to customised solutions. At Peene-Werft, we are proud of our flexibility and agility and continuously implement adjustments and improvements – always keeping the vessel and customer in focus.
For an overview of our certificates, please click on the download button.
A FULL RANGE OF MANUFACTURING
Our breadth of manufacturing possibilities makes Peene-Werft a multipurpose shipyard ready to take on your project. We are specialised in various working materials, including aluminium, non-magnetic materials and stainless steel. Our expertise in the characteristics of these metals as well as the processing of very thin metal sheets and more ensures that we know how to effectively handle them to achieve the most reliable results for your vessels.
We operate two flame-cutting machines so we can cut aluminium and steel at the same time – leading to enormous savings in both time and costs. Our assembly line for panels has been fully modernised to now handle even very thin metal sheets, including micro panels. The KBO (Konstruktionsbüro Ost), as an integral part of the NVL Group design department, is based at our shipyard and works closely with the manufacturing divisions.
Thanks to these special capabilities, we were entrusted with the construction of patrol boats for international customers as well as the aftships of the K130 corvettes for the German Navy (boats 1–5 and boats 6–10), amongst others. As these vessels are very sophisticated, featuring extremely thin sheet metal, they require experienced welders as well as skilled project managers who perfectly coordinate the processes to ensure a timely workflow in such small spaces.
At Peene-Werft, we also handle the complete outfitting of the vessel, including certified welding work, pipe construction work, fabrication and assembly equipment, and device assembly, as well as commissioning and testing. But we don't stop there. In line with our shipyard's spirit, we support your crew in finding the right accommodations, on-site or off, and put a reliable contact person right by your side. We support you and your project to the very last detail and are at your service 24 hours a day, 7 days a week.
THE FUTURE GENERATION OF SHIPBUILDING
To be able to leverage our high degree of specialisation and our know-how in the future, a significant pillar of our company strategy involves the support of apprentices at our shipyard. We even have our own welding school, which is approved by the DVS (Deutscher Verband für Schweißtechnik) and TÜV Nord. If you would like to become a part of our team, please take a look at our job portal.
We are convinced that the training of new talent and the further qualification of years-long employees are the basis of our team's success. This mindset is distinguished year after year with the award honouring Peene-Werft as a top training company (TOP – AUSBILDUNGSBETRIEB).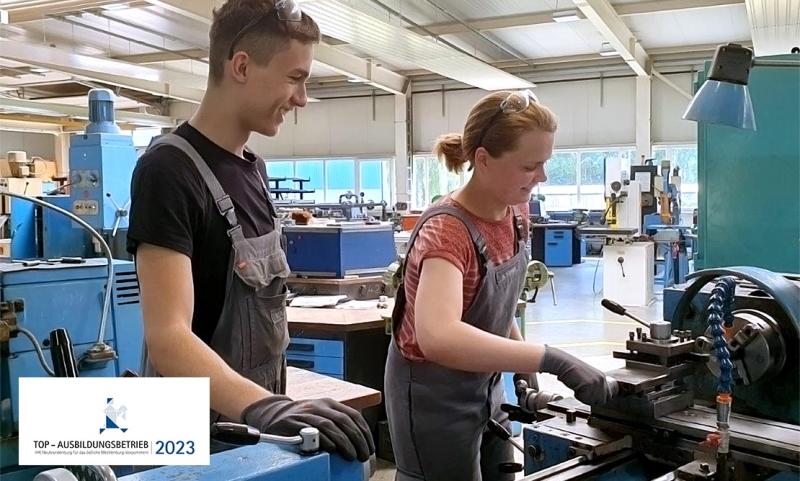 We cherish that most of our employees have been working with us for many years. With teams specialised in both new builds and ship repairs, our over 330 employees operate as one tight-knit team to serve our valued customers.
Our workforce courageously takes on any new challenge and task and always acts solution oriented. This mentality is strongly anchored in our DNA. Flat hierarchies and true team spirit are important to us. Our apprentices and dual students are fully integrated into the team and learn their trades from highly experienced colleagues. And our multigenerational workforce ensures that customers as well as staff benefit from strong capabilities and innovative ideas.
COME ABOARD!
Become part of our team: we are always looking for professional reinforcement for our team for the new build and repair of naval vessels and coastguard vessels, NVL Services, business administration, and engineering. We also have a variety of apprenticeships and dual studies programmes available. 
WHAT MAKES US STAND OUT
At Peene-Werft, we think outside the box to find the right solution for our customers.
State-of-the-art shipyard at the Baltic Sea for the full

range of new

builds

and repairs of naval and coastguard vessels

Deep manufacturing breadth, specialised in various working materials like aluminium, non-magnetic materials, stainless steel and more

Multigenerational team backed by a state-of-the-art apprenticeship programmes

 

Close cooperation with sister shipyards within NVL Group to ensure the best results for your individual project
DISCOVER MORE NVL Group SHIPYARDS AND PARTNERS
Learn more about our network of shipyards and international operations.