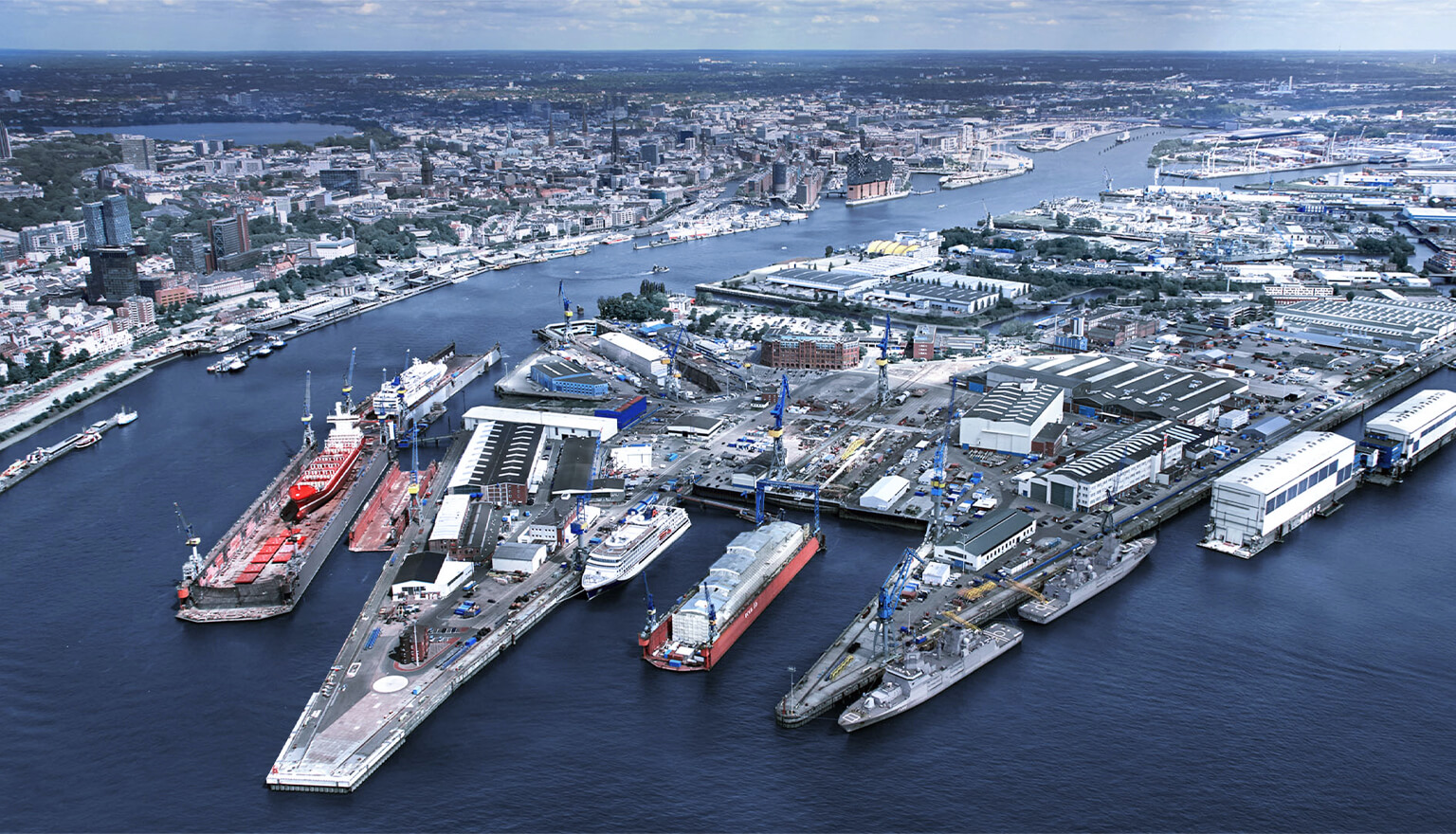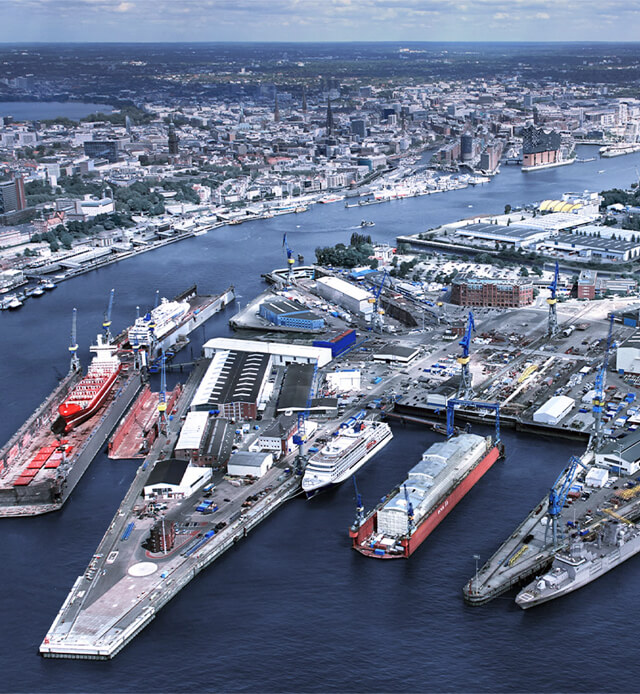 Anchored in the heart of Hamburg
Since its beginnings in 1877, Blohm+Voss has been located in the Steinwerder borough, right in the heart of the Port of Hamburg, Europe's third-largest port and an important and respected centre of shipbuilding excellence. With hundreds of new builds to date, over the years Blohm+Voss has forged shipbuilding history and set standards in technology and design.
The wide-spanning Blohm+Voss waterfront and docks are landmarks well known to Hamburg's residents and visitors alike. The view of the Elbe River from the city centre, of the ships passing by each day or in the docks, is an inspiring maritime sight for all in the Northern German Hanseatic city. A pleasant short walk or bicycle ride through the historic old tunnels underneath the river brings you directly to the shipyard on the other side.
Secure your prime advertising space in Hamburg - for information on our famous dock banners, please go to the media portal.
THE ENTIRE RANGE OF VESSEL EXPERTISE  
Today, more than ever, Blohm+Voss is a leading provider of innovative and customised solutions for the new build of naval vessels. Modern naval vessels are highly complex, powerful ships that require the full range of cutting-edge equipment to be effective. We have the competence needed to provide sophisticated naval solutions tailored to your specific needs. Please don't hesitate to contact us to talk about your requirements.
In addition, we focus on the outfitting, commissioning and acceptance tests of new builds together with our customers. In close cooperation with our sister shipyards Peene-Werft, Norderwerft and Neue Jadewerft, we have an extensive supplier network that supports us in perfecting every project to the last detail. 
Our shipyard & Docks
With an overall shipyard area of 451,000 square metres and a 2,100-square-metre waterfront, Blohm+Voss offers many possibilities. Our shipyard includes three shipbuilding halls, one prefabrication hall, four mechanical and engineering workshops, one carpenter workshop, twelve warehouse and storage facilities, and a training and education centre – all equipped with cutting-edge technology to meet our customers' needs.
 
Our outfitting quays are equipped with seven cranes, and the equipment in our workshops includes various gantry cranes and lifting gallows for challenging new build projects and ship repairs. Blohm+Voss offers specialist machinery for a wide variety of tasks – from milling to turning, pressing to grinding and boring to cutting. The shipyard also provides offices for our customers' project management teams. At Blohm+Voss, we have seven docks in various dimensions, including Elbe 17, one of the largest graving docks in Northern Europe.
For an overview of our certificates, please click on the download button.
Covered Dock 5
Dimensions:
160 m x 28 m
Lifting capacity:
9,000 t
Floating Dock 6
Dimensions:
162 m x 24 m
Lifting capacity:
9,000 t
Covered Dock 10
Dimensions:
287 m x 44 m
Lifting capacity:
50,000 t
Floating Dock 11
Dimensions:
320 m x 52 m
Lifting capacity:
65,000 t
Covered Dock 12
Dimensions:
143 m x 25 m
Lifting capacity:
6,000 t
Floating Dock 16
Dimensions:
199 m x 32 m
Lifting capacity:
22,000 t
Dock Elbe 17
Dimensions:
351 m x 59 m
Lifting capacity:
unlimited
A NETWORK OF EXTENSIVE COLLABORATION 
At NVL Group, a well-oiled team of shipbuilding specialists, suppliers and partners work independently and yet hand in hand to deliver high-quality vessels tailored to customers' precise needs. A current example of our network expertise and cooperation between the shipyards is the new build of the K130 corvettes (boats 6-10) for the German Navy. While the aftships are currently built at Peene-Werft in Wolgast, the foreships are manufactured in Bremen or Kiel. Both halves are towed to Hamburg, "married" together and outfitted by Blohm+Voss.
As a specialist for highly equipped naval vessels, Blohm+Voss takes over a leading role for many NVL Group projects. As each project is one of a kind, we focus on agile management and remain flexible at all times. Detailed planning and fine-tuned coordination take top priority in our naval vessels and projects. Our experienced workforce and dedicated teams make sure processes run smoothly, coordinating the different building phases, materials and technology down to the very last detail. The result is one single harmonised vessel that is delivered to you as fast and as efficiently as possible – while meeting high quality standards and all the necessary regulations and legislation.
INNOVATIVE THINKERS WITH A STRONG HERITAGE
Nearly 150 years of history in the building of naval ships has shaped the team culture at Blohm+Voss over generations. Our shipyard covers a large area and features multiple docks, yet our team is tight-knit with a special bond to the shipyard. Our project teams consist of multiple experts of various trades – from naval architects to mechanical and electrical engineers to interior outfitters and many more – who can handle the most complex projects. Even for spontaneous projects, creating a whole specialised infrastructure within the shipyard is no obstacle. We work in sync and in a cohesive synergy together – highly qualified, well harmonised, with a passion for developing and implementing innovative solutions of naval vessels for our customers.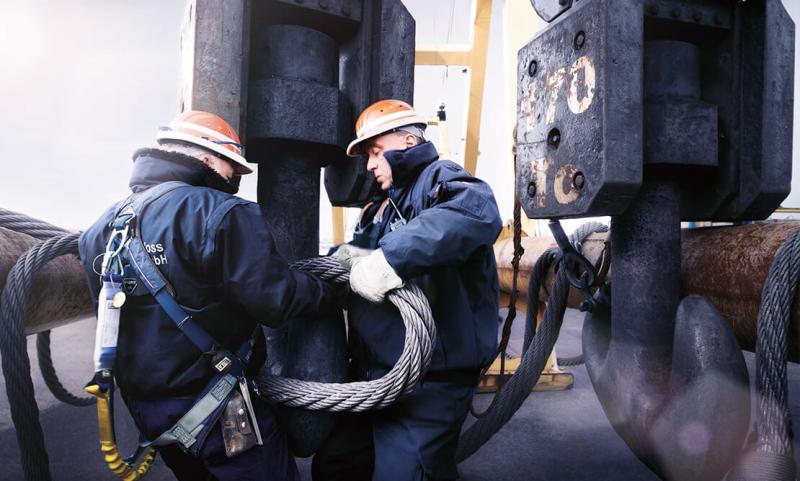 With years of experience working on various projects for customers around the world with unique requirements – we have learnt to perfect our intercultural competence, which allows us to cater to each customer's specific needs. We also easily adapt to each project and solve challenges with flexibility and competence. We are passionate, experienced and dedicated – we are Blohm+Voss.
Blohm+Voss is a proud member of the 'plastikfreie Stadt' initiative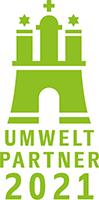 COME ABOARD!
Become part of our team: we are always looking for professional reinforcement for our team for the new build and repair of naval vessels and coastguard vessels, NVL Services, business administration, and engineering. We also have a variety of apprenticeships and dual studies programmes available. 
WHAT MAKES US STAND OUT 
Blohm+Voss – anchored in the heart of the Port of Hamburg
Several different types of docks to cater to all shapes and sizes of naval vessels
Management capabilities to execute complex new build projects  
Qualified team with a strong heritage and a passion for innovative ideas 
Close cooperation with sister shipyards within NVL Group to ensure the best results for your individual project
Discover more nvl group shipyards and partners
Learn more about our network of shipyards and international operations.