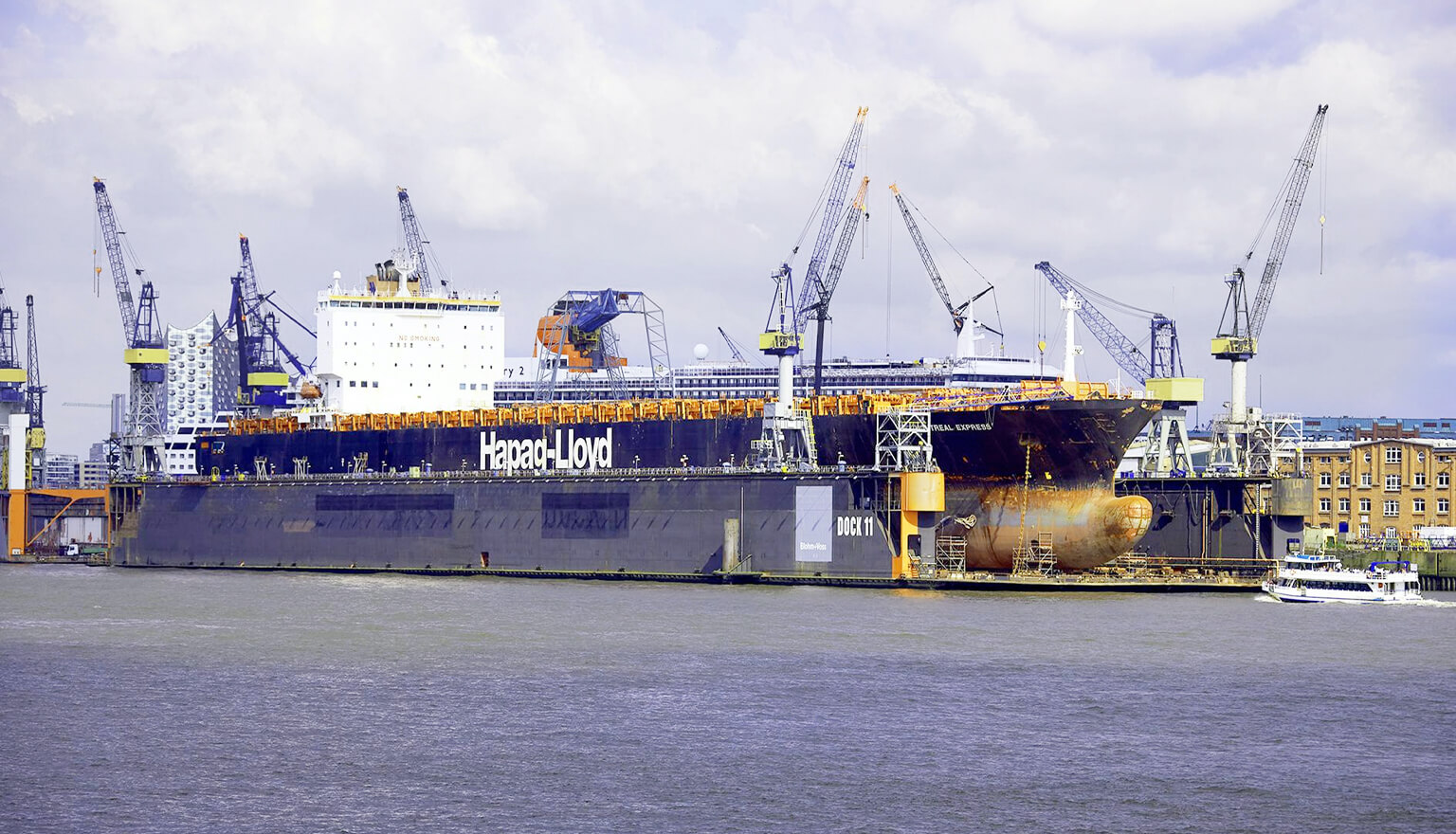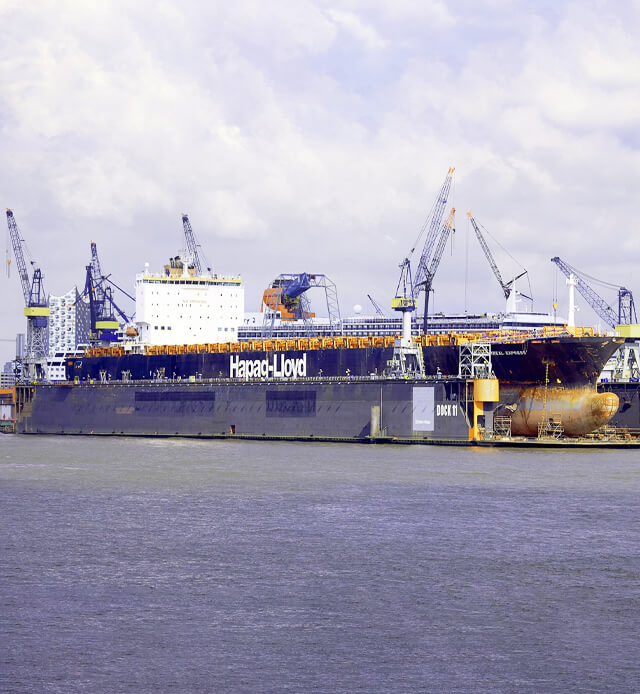 TEAMWORK FOR YOUR PROJECT
The Port of Hamburg is a crucial and pivotal port for the shipping industry and commercial vessels worldwide, with thousands of ships passing through the port and the river Elbe each year.

Our NVL Group shipyard Norderwerft has dedicated facilities for the repair, refitting, conversion, maintenance and servicing of all types of commercial and offshore vessels, including bulk carriers, container ships, reefer ships and RoRos. We feature mechanical, steel pipe, joinery and electrical workshops that are exceptionally well equipped and laid out to optimise material flow, increasing the efficiency for each project.  
Our facilities are embedded within a hub of local suppliers and contractors, providing a wide range of quality ship repair support services. The large supplier network also enables our Hamburg shipyards to complete any kind of ship repair project as a 'one-stop shop'. Commercial vessels can be unloaded, repaired, reloaded and ready to go in just a matter of days, depending on the size of the job. 
OUR SERVICES FOR YOUR COMMERCIAL PROJECTS
We offer a variety of services. Although the below list displays a good example of the types of services we can provide, we are of course able to accommodate almost any vessel for any type of repair, even if it is not shown here. For any detailed questions or requirements for your specific project, please don't hesitate to contact us. We will plan the refit of the vessel in tune with your specific needs.
| | |
| --- | --- |
| | Modifications and conversions  |
| Standard/Damage repairs and refit | |
| | Project and logistics management |
| Instalment of ballast water treatment systems | |
| | |
| Technical upgrades, e.g. for auxiliary equipment | |
| |   |
UPGRADE YOUR VESSEL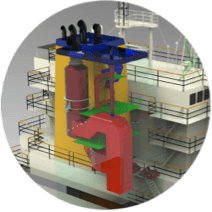 Scrubber and ballast water treatment installation
In accordance with new legislation, we retrofit scrubbers and ballast water treatment systems into any vessel to make your fleet viable for the future.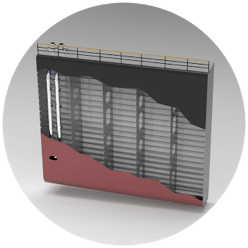 Tank refurbishment
We can repair any damage, provide tank coating and perform standard maintenance – whatever our customer needs with regard to tanks, we can fix it.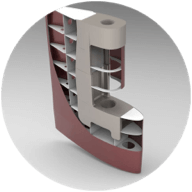 Propulsion unit overhaul
Our regular day-to-day business includes the overhaul and maintenance of all types of propulsion systems, rudders and complete shaft arrangements, all within our specialised workshops.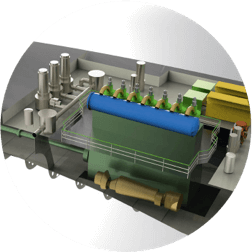 Engine room modifications
We can draw upon extensive knowledge when modifying your vessel's engine room. The maintenance and even modifications, such as removal and reinstallation of engines and generators, can be carried out in a very small time frame.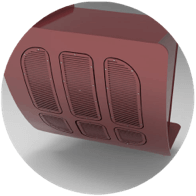 Shell-side installations
Due to our extensive experience, we are able to install additionally required elements into the shell of any vessel, for example sea chests for the scrubber systems.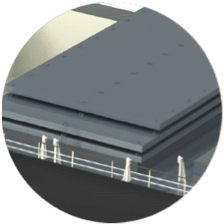 Hatch cover repairs
Be it damage or cell guide repairs, standard maintenance, or the overhaul of the hatch covers, we are able to complete the works with certainty in the knowledge that you'll be satisfied when we're done.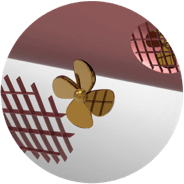 Overhaul of thrusters
With our knowledgeable employees and their wealth of experience, we make easy work of upgrades and maintenance to any thruster.
NO PROJECT IS TOO COMPLEX 
Norderwerft offers engineering expertise and shipbuilding and repair experience in many fields. Also, we are well renowned for special projects. We have earned the reputation that no task is too complex and thrive on the challenges that we are faced with at our shipyards every day. Special projects can range from restoring a historical vessel to its former glory to a complicated lifetime extension for an offshore vessel.
We have been working on floating technology connected with the offshore production and transportation of oil and gas since the 1970s and have therefore gained comprehensive experience with regard to projects of this type. Offshore vessels often operate under very demanding conditions in the far reaches of the world, and the quality of a repair is essential to the safe operation of these vessels. At Norderwerft, work on such units is carried out in line with very high safety standards, operating innovative technology. 
Alongside more conventional, standard repairs to oil/gas offshore units, special projects at both shipyards include the installation of dynamic positioning systems, the performance of structural optimisations, the construction of service cranes, the upgrading of production facilities, the extending of crew quarters and the carrying out of engine repairs.  
For such versatile and experienced shipyards, no special project is too difficult. Together, we are capable of realising any project for any vessel.  
WORLDWIDE REPAIRS, WHEREVER YOUR SHIP MIGHT BE
We are always close to our customers with a dedicated team of flying squads. No matter where your ship is located, whether it is located in Hamburg or halfway across the world, you can rely on us to deliver global ship services anywhere. Shipping companies can rely on these teams to supply the necessary solutions, including carrying out the ship repairs on location.
No matter if the job is to exchange a small part or involves the handling of a more complicated technical project, teams are as committed to maintaining the same high level of service as when the refit takes place in our own shipyards and docks. The conscientious worldwide ship services team has extensive experience in the maritime engineering industry. They take care of every detail, ensuring projects are completed on time and within budget. Please don't hesitate to contact us for more information.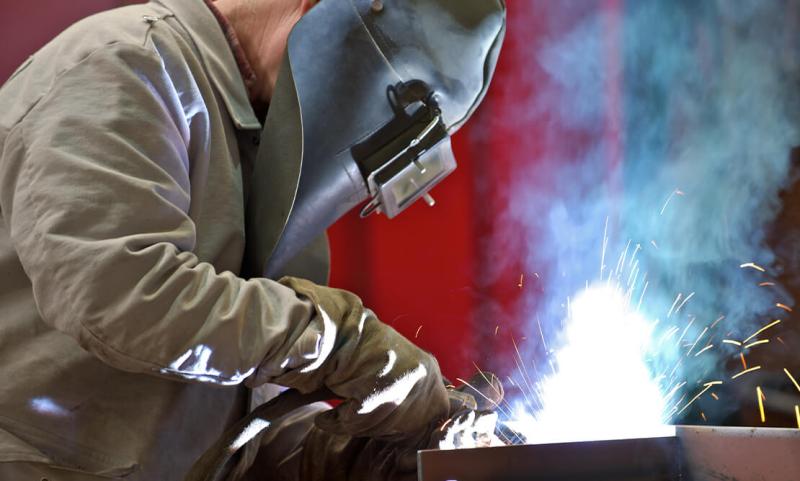 REFERENCES
Get an insight and learn some key facts of our projects here.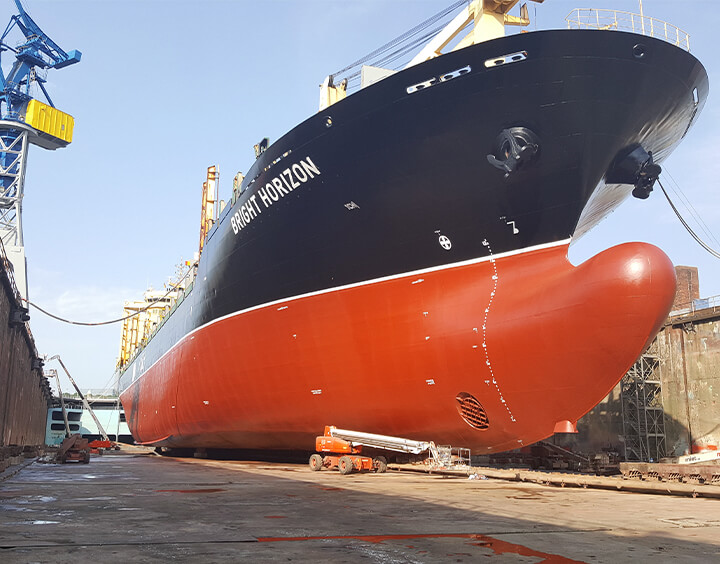 BRIGHT HORIZON
MACS – Maritime Carrier Shipping GmbH & Co 
IMO no.: 9231119 
LOA x beam: 192.9 m x 27.8 m 
Third special-class renewal survey and major works, including a new application of an eco-friendly coating system
Completed in 10 days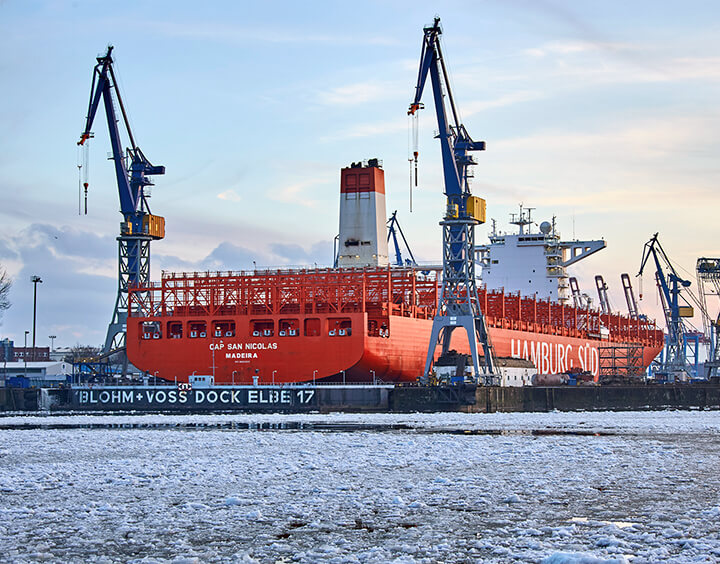 CAP SAN NICOLAS
Hamburg Süd, Maersk 
IMO no.: 9622203 
LOA x beam: 333.2 m x 48.2 m 
Class dockings at Blohm+Voss for several vessels in the Cap San series, including Cap San Nicolas
Completed in 15 days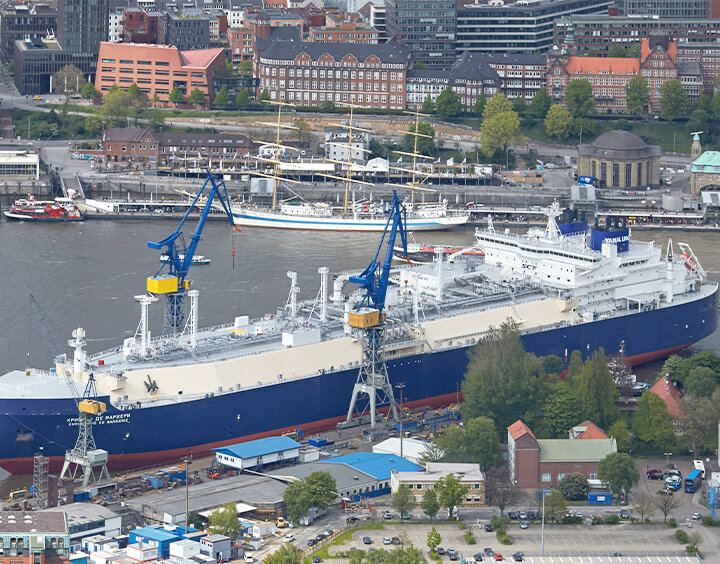 CHRISTOPHE DE MARGERIE
PAO Sovcomflot  
IMO no.: 9737187  
LOA x beam: 299.0 m x 50.0 m  
Guarantee works and general repairs, including a refit of the accommodation area and hull treatment with new anti-ice coating using ice-resistant paint
Completed in 11 days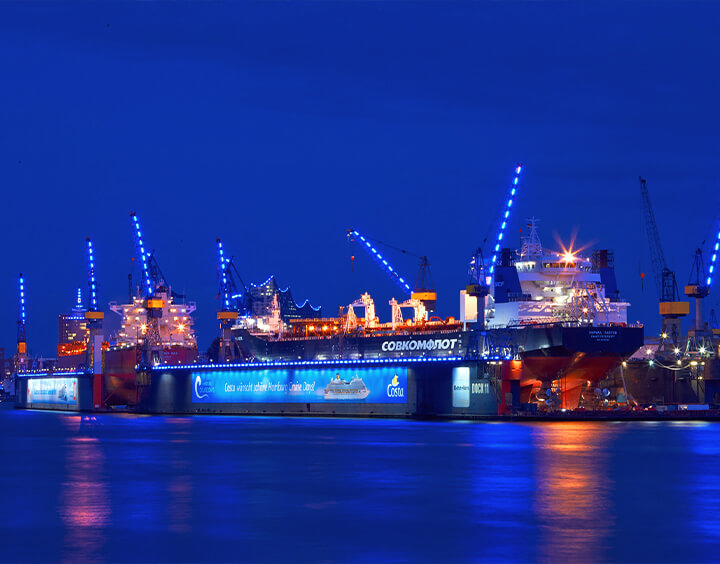 KIRILL LAVROV
PAO Sovcomflot 
IMO no.: 9333682 
LOA x beam: 258.8 m x 34.0 m 
Dry-docking and standard repairs for this ICE-class shuttle tanker, including anti-ice coating using ice-resistant paint
Completed in 13 DAYS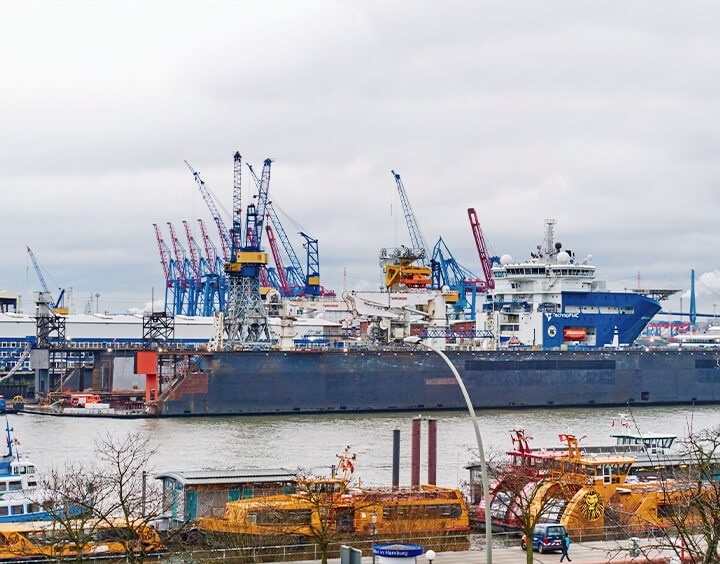 NORTH SEA GIANT
North Sea Shipping AS  
IMO no.: 9524073 
LOA x beam: 153.6 m x 30.6 m 
Dry-docking, class renewal, overhaul of Voith propulsion
Completed in 48 days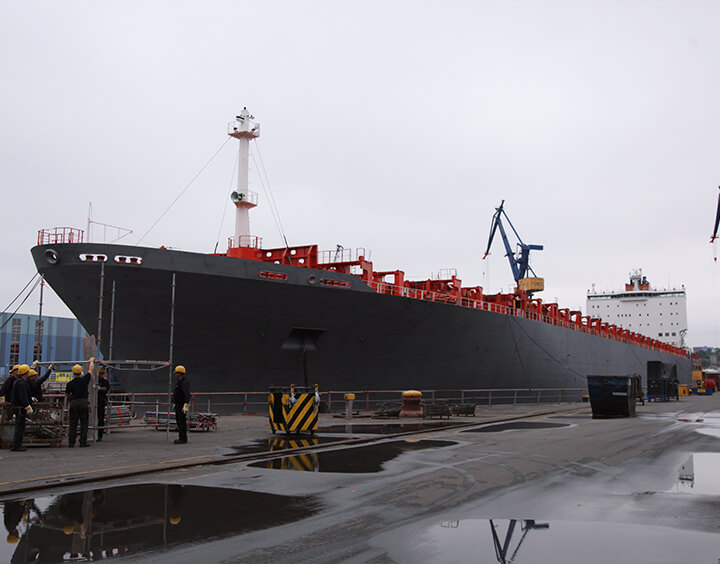 TORONTO EXPRESS
Hapag-Lloyd AG 
IMO no.: 9253727 
LOA x beam: 294.0 m x 32.3 m 
Dry-docking and reconditioning, including works such as main engine overhaul and hull blasting and repainting
Completed in 20 days