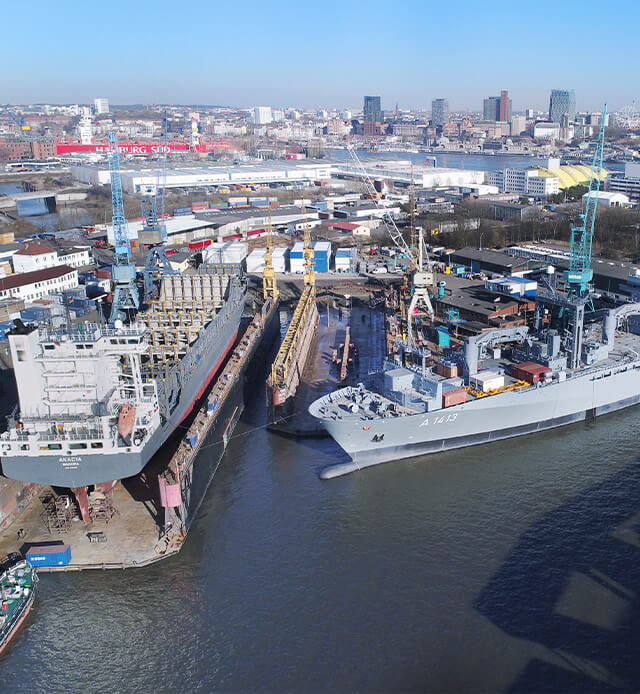 OVER 100 YEARS OF SHIP REPAIR EXCELLENCE
Norderwerft has been part of the Port of Hamburg for more than 100 years. To this day, this fully integrated shipyard is renowned for its promptness, flexibility and high quality, offering shipbuilding expertise down to the very last detail.
As a key repair shipyard of NVL Group, Norderwerft is responsible for repairs and conversions, modernisations, upgrades, and the maintenance of naval vessels and commercial vessels, such as container ships, up to 200 metres in length. In addition, the shipyard offers services for other types of vessels, such as historical boats, tugboats, dredgers and research vessels.
Looking back at an extensive history in shipbuilding and ship repair, we have the experience to complete projects on time and within budget to the complete satisfaction of our strong customer base. This includes satisfied long-term clients such as the German Navy, public authorities and other customers around the globe.
WE TAKE CARE OF YOUR SHIPS
Whether they were built by one of the shipyards of NVL Group, a predecessor or any other shipyard, your ships are in good hands at Norderwerft.
As part of NVL Group, we work closely with our sister shipyards Neue Jadewerft, Peene-Werft and Blohm+Voss. We support each other on a regular basis by sharing an extensive supplier network and exchanging best practices, knowledge, technology and staff to offer you the best solutions for your individual projects.
Our team at Norderwerft is always happy to welcome existing and new clients – for long-term projects or unplanned repair or maintenance work at short notice. Please feel free to contact us.
We have excellent docking conditions, with three floating docks and three lay-by berths providing a total length of 450 metres of waterfront. All of our docks are equipped with electricity and other supply connections, and our lay-by berths are video monitored for enhanced security.
Covered scaffolding for projects can be provided as needed to ensure the continuation of work in all weather conditions and to prevent your ship being seen by the public.
Our premises also feature a shipbuilding hall, a prefabrication hall, two mechanical and engineering workshops, two warehouse and storage facilities, and a dock water treatment plant, as well as ten dock and quay cranes and various bridge cranes.
For an overview of our certificates, please click on the download button.
Floating dock 1
Lifting capacity:
12,500 t
Height of exterior wall:
15 m
Floating dock 2
Height of exterior wall:
11 m
Floating dock 3
Height of exterior wall:
12 m
Cranes
Dockside and quay cranes:
10
Lifting capacity:
up to 60 t
SHIP REPAIRS TO THE VERY LAST DETAIL 
At Norderwerft, our high manufacturing depth, together with our in-house trades such as the shipyard's own locksmith and joinery, enables us to be highly flexible. This means we can provide you with the best solutions for your individual needs and requirements.
We offer ship repairs, refits, modernisations and upgrades. For ships which no longer perform as needed or whose systems are outdated, we offer innovative customised solutions. Our extensive and high-quality modernisation and modification services cover the installation of new loading gear as well as improved electrical systems along with the complete renovation of the interior or the replacement of the entire propulsion system. Our range of services also covers the preparation of vessels for the compulsory renewal of classifications and for intermediate surveys. Surveys with all known classification societies can also be performed hassle-free on-site at our shipyard.
Even for the most complex technical challenges such as massive ship hull damage, we at Norderwerft develop effective solutions and perform these with high efficiency – 24 hours a day, 365 days a year.
COMMERCIAL PROJECTS
The Port of Hamburg is a crucial and pivotal port for the shipping industry and commercial vessels worldwide, with thousands of ships passing through the port and the river Elbe each year.
Norderwerft has dedicated facilities for the repairs, refitting, conversion, maintenance and servicing of all types of commercial and offshore vessels, including bulk carriers, container ships, refrigerated ships and RoRos. You can find more information on our commercial projects here: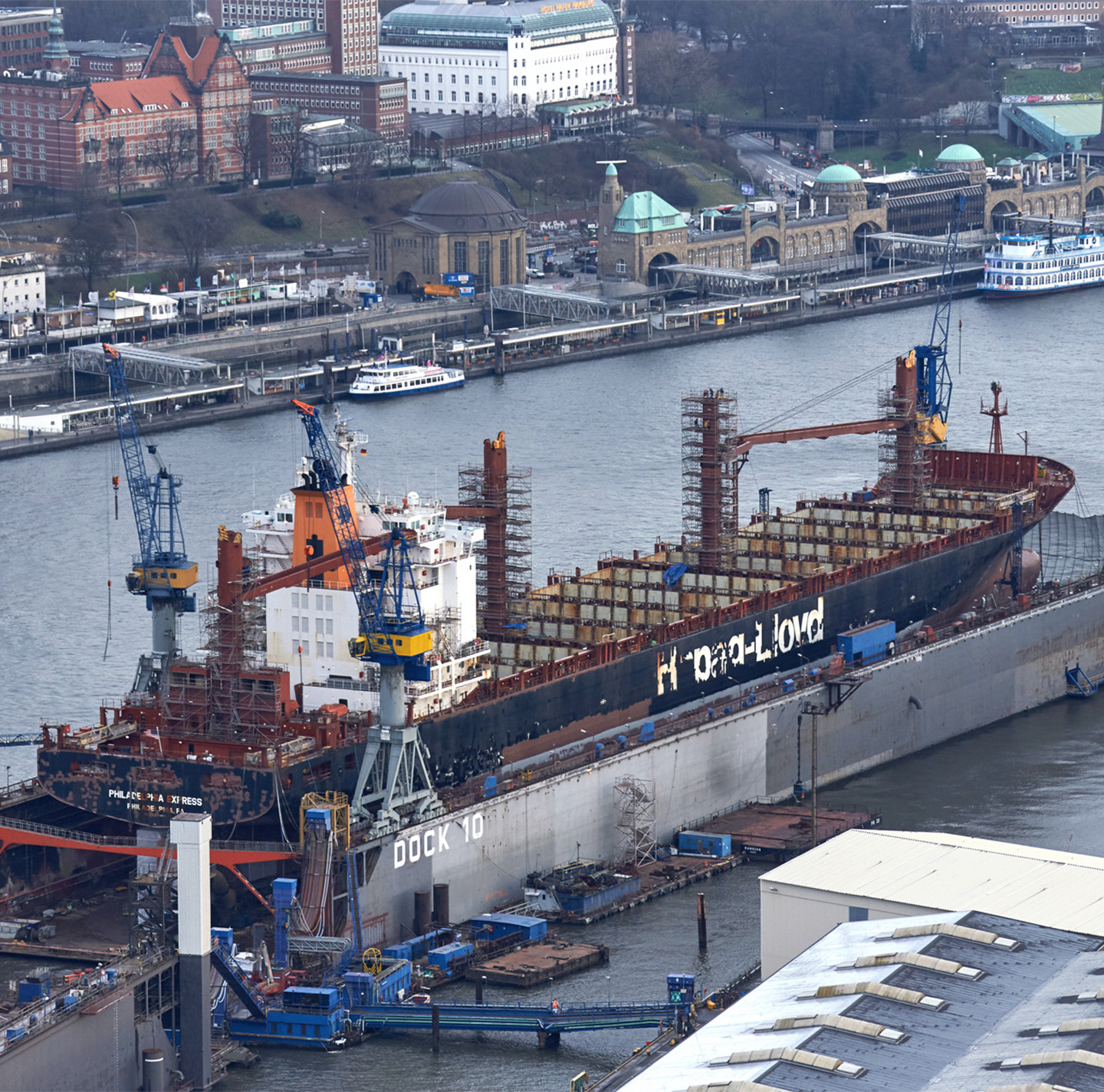 EXPERTS WITH A PASSION FOR SHIPBUILDING
At Norderwerft, we are passionate shipbuilders and take pride in our flexibility and promptness. Our core team has been working together for many years and has become a tight-knit unity, working efficiently and reliably at a high level of quality. Fulfilling complex demands at short notice, simultaneously and in a short time frame is our strength.
The right combination of experience, know-how and innovative thinking is what makes our team of about 90 repair experts able to perform highly complex refits with precision – to get your vessel back at sea as fast as possible. Our seasoned employees are specialised and highly qualified to offer you a very personal service, together with well-coordinated project management at a competitive price.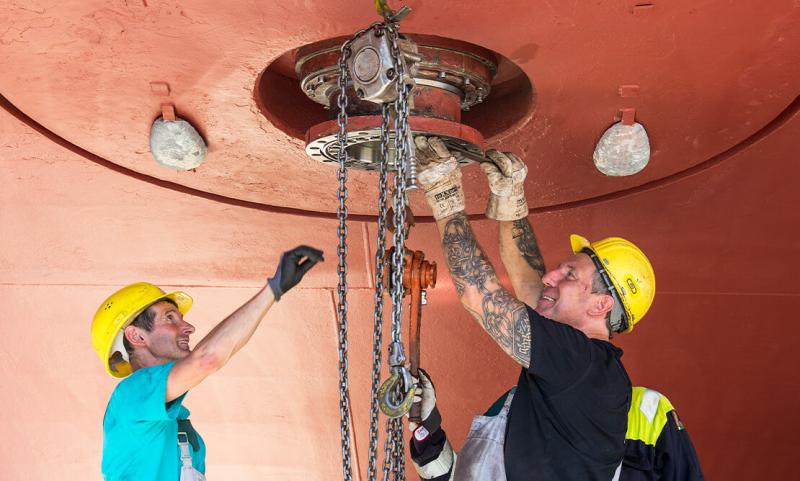 From Hamburg to the world – no matter where you are in the world, our highly qualified mobile service teams quickly perform repair and maintenance work with outstanding quality at your boat or ship. To adhere to your schedule and shorten downtime, our seasoned service technicians can be at any location at short notice to repair propulsion machinery, hydraulics or electronics, to replace worn or defective mechanical parts, or to perform steelwork.
Many of our staff at Norderwerft have been working with us for years. We continue the tradition of a family enterprise, with continuity and trust as just two of our core values. We are always looking for new talent to join us.
COME ABOARD!
Become part of our team: we are always looking for professional reinforcement for our team for the new build and repair of naval vessels and coastguard vessels, NVL Services, business administration, and engineering. We also have a variety of apprenticeships and dual studies programmes available. 
What makes us stand out
At Norderwerft, we get things done. Over 100 years of ship repair excellence.
Docks that hold vessels up to 200 metres in length

Specialised in ship repairs, refits, modernisations and upgrades, as well as the maintenance of all kinds of vessels

Personal and passionate service, anywhere in the world, 24/7

Close cooperation with sister shipyards within NVL Group to ensure the best results for your individual project
DISCOVER MORE NVL GROUP SHIPYARDS AND PARTNERS
Learn more about our network of shipyards and international operations.